Optical Monitor Board
The Optical Monitor Board is an optically transparent 4-channel repeater. It converts digital light signals into electrical 5V logic level, and additionally visualizes by LEDs and parallel fiber optic channels. The fiber optical system is based on the Avago Versatile Link family. It is available in two data rates, 5MBaud and 10MBaud.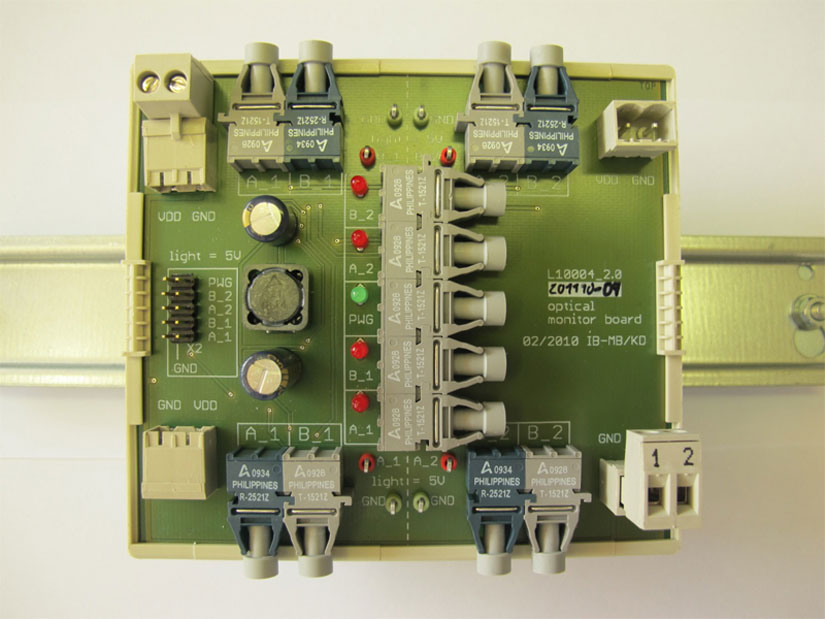 2x2-channel 5MBaud / 10MBaud optical monitor board
Originally intended for the evaluation of data traffic on half-bridge drivers that operate at high voltage level, it is also suitable for converting four independent light signals into electrical signals or to split up light signals.
As the information is optically decoupled, a second optical monitor can act as a four-channel receiver on user level. Alternatively any optical trigger can take over the reconversion. An additional power good channel reports health status information at high voltage level down to the user level.
Scope of delivery 5MBaud:
2x2 optical channel monitor board 5MBaud
Type: L10004_5MB, mounted on DIN rails and DIN rail housing with magnetic holders
Scope of delivery 10MBaud:
2x2-10MBaud optical channel monitor board
Type: L10004_10MB, mounted on DIN rails and DIN rail housing with magnetic holders
Quote request: angebot[at]ib-billmann[dot]de
For further information please download: