DC Link Monitor
Energy stored in charged capacitors is a severe source of danger. The presented family of control monitors offers a way to estimate the dangerous potential of a capacitor bank - in addition to other precautionary measures that have to be taken for operator safety.
Our monitors are designed in fully encapsulated plastic boxes without metal parts outside. They do not require batteries or other auxiliary power supplies. Their supply is internally taken directly out of the DC link energy. They are designed for low heat loss. Power losses are dissipated - electrically isolated - through the plastic housing. The high voltage resistant cables are wired directly to a high voltage DC fuse in the housing. Thus, the risk of extreme destruction in case of an internal defect is lowered.
Each monitor depicts DC voltages in three types:
Passive analog indicator with special scale. 0V ... 150V display scaled, higher voltages at a red bar or exceeding the red bar
Above approximately 24VDC two red light bars will start flashing alternately
Below about 20VDC the red blinking will stop and change into a steady green light LED bar
The flashing - and so the danger - is clearly visible from a far distance.
A correct discharge process will appear as follows:
The pointer of the analog indicator moves down
The red LED bars stop flashing
The steady green light appears until the capacitor voltage falls below a value of approximately 15 VDC
Warning: A damaged or not connected DC link monitor can simulate a discharged capacitor. One monitor alone cannot provide sufficient protection!
We recommend the use of redundant control units that contact the DC link via different interfaces & connections. When using two DC link monitors these monitors always have to behave similar at discharge. Please refer to the instruction manual!
DLM1700
The DC link monitor DLM1700 is suitable for monitoring a permanent voltage up to 1700VDC. It is not damaged and works also with polarity reversed.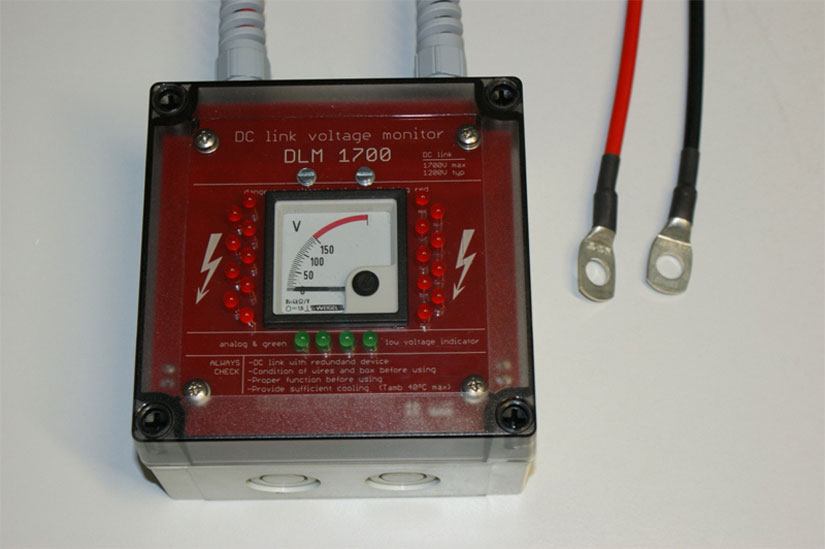 DC Link Monitor DLM1700
Scope of delivery:
DLM1700
Quote request: angebot[at]ib-billmann[dot]de
For further information please download:
DLM6500
The DC link monitor DLM6500 is suitable for monitoring permanent voltages up to 6,500VDC. It is not damaged and works also with polarity reversed. Reverse polarity operation is indicated by an additional LED.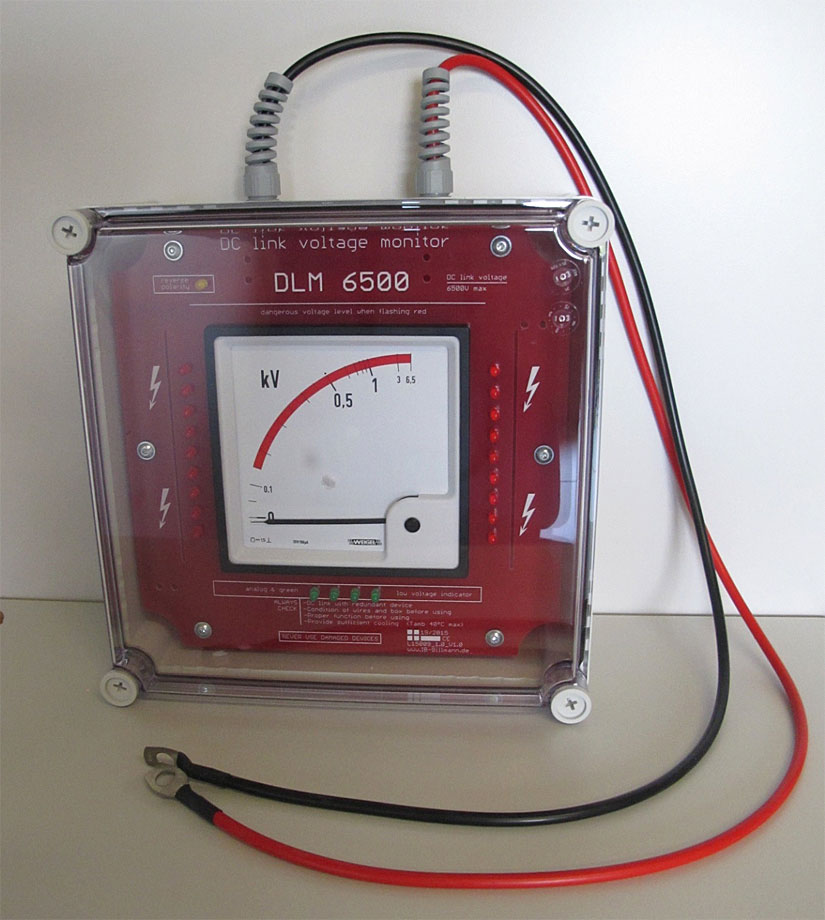 DC Link Monitor DLM6500
Scope of delivery:
DLM6500
For further information
contact[at]ib-billmann[dot]de